Ford Bronco Going Into Production in Early Spring 2021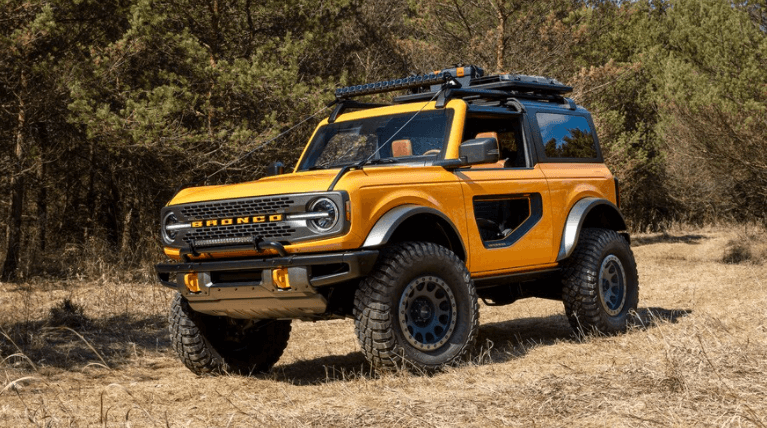 Image Source: Motortrend.com
After being delayed for several months during the outset of the coronavirus pandemic, Ford has finally announced that the 2021 Ford Bronco is going into production on March 29, 2021. This mass-produced move will take place in their assembly plant in Wayne, Michigan. The original launch date was planned for Spring 2021 but with the recent announcement from Ford, car buyers can expect the 2021 Ford Bronco to arrive in dealerships by the end of summer 2021. For the adventure seeker and outdoors enthusiast this is great news as the off-road SUV market gets to witness the rebirth of an American icon. So far automotive news sites have captured photos and videos of pre-production models, but prospective buyers can expect the new Bronco to arrive in two-door and four-door variants and will directly compete with other off-roaders already in the market.
The Ford Bronco is making its return as one of America's offroad SUV icons, the very first Bronco rolled off the Ford assembly line in 1965 and was known for adventure and off-road capabilities. The Bronco had a legendary production run of 31 years until its final model in 1996 that was caused by a shift in consumer behavior that started to favor four-door family SUVs like the Ford Expedition. Of course, the image of the Bronco had been damaged by the events that took place with O.J. Simpson, but that's another tale. Ford didn't stop making popular vehicles, and with time passing the new Ford Bronco can relive that same vintage heritage in a brand new model for the modern era.
Trim Levels and Configurations
The 2021 Ford Bronco will be offered in two body styles: the classic two-door and a larger four-door variant coupled with various power and engine combinations. Designed for both off-roading and everyday urban cruising, Ford will offer the Bronco with removable doors, windows, and roofs on both body styles and will be set to release with seven trims levels that will give prospective buyers plenty of options to choose from. Starting from the base model, to the Big Bend, Black Diamond, Outer Banks, Wildtrak, Badlands trims, to the highly anticipated First Edition model, of which according to Ford, has already received such a high volume of reservations, that reservations for the First Edition are no longer being accepted, as they have reached the maximum reservation amount.
2021 Ford Bronco Trims and Pricing
According to Ford, base MSRP starts at $28,500 (Plus destination fee) for the entry-level trim, which will reward drivers with all the essentials needed for off-road driving. The base trim most resembles that of the original Ford Bronco; a vintage appearance. Car buyers can also opt for the next trim level after the base, the Big Bend trim which comes equipped with LED fog lights and 17-inch aluminum wheels and will be set at a starting base price of $33,385. The third in line is the Black Diamond trim which will go for $36,050 and it comes with a modular grille, heavy-skid plates, a locking rear differential, and vinyl seats for the interior. For consumers looking to get a little more luxury in their Ford Bronco, the Outer Banks Trim, the fourth of the bunch starts at $38,955 MSRP (Plus destination fee) and is appointed with an LED signature exterior, a black-painted grille, ambient footwell lighting, and an optional 12-inch LCD touchscreen display with a B&O Sound System.
For the more capable off-roading trims, the Badlands trim is the fifth brother of the Bronco family that comes standard with a stabilizer-bar disconnect system, position-sensitive Bilstein shocks, and high clearance suspension that will be offered at $42,095 MSRP (Plus destination fee). Serious off-road enthusiasts can take it up a notch with the Wildtrak trim, the second most expensive trim offering that is perfectly suited for high-speed desert runs with highly capable 35-inch tires from $50,370 MSRP (Plus Destination fee). Last but not least, Ford's flagship Bronco offering is their First Edition model which has a starting price tag of $57,410 MSRP (Plus destination fee) and is a limited-production model with only 7,000 models that will be manufactured. This top trim comes with a whole host of features and cosmetic upgrades not available on the lower trims.
Engine Options and Cargo Space
Want some solid horsepower? The 2021 Ford Bronco begins with a base 2.3-Liter Turbo I-4 engine that is capable of 270 horsepower and 310 lb-ft of torque. There is also an optional 2.7-Liter Twin Turbo V6 that is capable of 310 horsepower and 400 lb-ft of torque. The transmission options on the 2021 Ford Bronco include a six-speed manual on the 2.3-Liter engine or a 10-speed automatic on both engines. Cargo capacity for the two-door model has 23.6 cubic feet of cargo space with all the seats up, but extra storage space can be made available by folding the rear seats which will provide a total of 58.4 cubic feet of space. For car buyers that decide to go with the more family-oriented four-door model, it has 35.6 cubic feet of space with all the seats up and 77.6 cubic feet of space with the second row folded down.
Enabling G.O.A.T. Mode
Standard on all Bronco trim levels is Ford's exclusive G.O.A.T mode which stands for "Goes Over Any Type of Terrain". The driver will have the option to select different driving modes that will enable their Bronco to adjust its computer settings so that it will be easier to go over rough terrain, there are even options that include a sport mode which makes the engine more responsive and an eco mode to save on fuel. Beyond the G.O.A.T mode, there are three additional modes that are available in the higher trims which include: baja, mud-rut, and rock crawl.
Placing Your Order
Ford is currently taking $100 reservations for the new 2021 Bronco, except for the First Edition trim level which has been practically sold out. The reservation window is currently open for willing buyers and they will be able to convert reservations into orders with their local Ford dealers. For more information on the new 2021 Ford Bronco, contact us at Wayne Akers Ford to place your order and we can help you configure your new Bronco to your exact specifications. You can also check out our available inventory for amazing deals on new and pre-owned Ford vehicles. We hope to see you soon at Wayne Akers Ford!