Ford Mustang Mach E Makes It Into the Guinness Book of World Records for the Third Time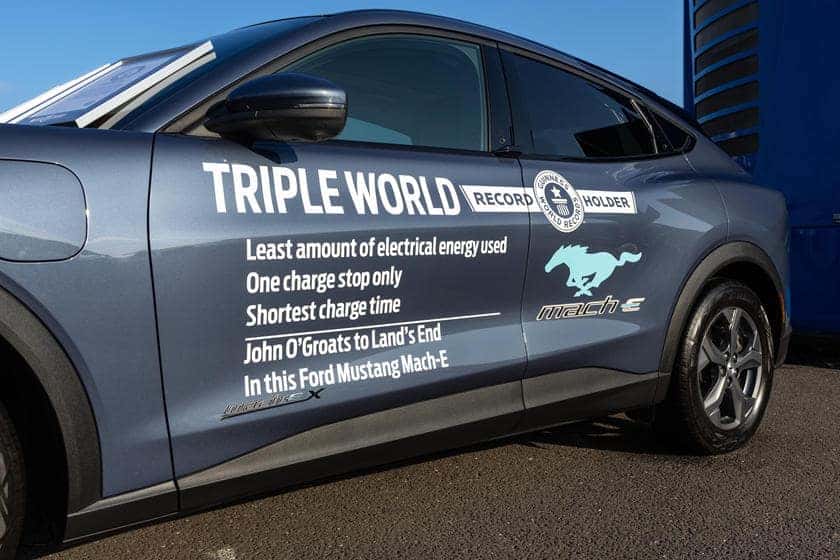 The 2021 Ford Mustang Mach E makes great strides in the EV Crossover segment with its attractive exterior styling, practicality, and performance. It has a spacious interior that seats five passengers comfortably, plenty of the latest technology, and two battery configurations to choose from. As Mustang Mach E deliveries gradually make their way to customers across the country, it earns a stellar reputation for achieving three world records in the electric vehicle category. This was possible due to the amazing engineering that went into designing its lithium-ion batteries, along with Ford's meticulous attention to detail to fuel-cell capacity and handling characteristics.       
Mustang Mach-E Owns Three World Records
It's made Official, the Mustang Mach E has three world records under its name, and Ford has three Guinness World Record Certificates to show for it. The first record consists of making an 840-mile trip from John O'Groats, Scotland, to Cornwall, England, while using 6.5 miles per kilowatt-hour (verified by the Guinness Book of World Records). Thus earning it the title for "the least amount of energy used." The second world record is more than impressive, out of the 840 miles covered during the cross-country trip, the Ford team manages to stop only one time to recharge their Mach E in the town of Wigan, located in North West England that earns them a "one charge stop only" title. During the trip, the team's charging session took a total of 43 minutes and 13 seconds (which is 30 minutes faster than the previous record for the same route the team drove on) therefore earning the Mach E its third title for "shortest charge time."
One Charge is All it Takes
Upon further analysis of Ford's world record achievements, the Mach E practically makes gasoline engines obsolete. Still, this notion is not entirely accepted in the automotive industry just yet until more consumer interest starts shifting toward purchasing electric vehicles. Holding the title for a one-charge stop in an electric vehicle is an admirable accolade because this means if another automaker wishes to break this record, it will have to make the same trip without recharging at all, something that will take incredible engineering to accomplish. According to the Ford driving team, the Mach E's fast charging rate provided them 73 miles of driving range in just 10 minutes.      
Record-Breaking Performance
More and more customers are receiving deliveries of the Mustang Mach E. Those same customers can be confident in the vehicle's potential for daily use and occasional road trips. According to Ford's Electrification Manager, Tim Nicklin, a full charge (without any interruption) can usually be achieved in just under 45 minutes and can easily accommodate drivers' needs for everyday driving. With the convenience of a professionally installed at-home EV charger, charging the Mustang Mach E is just like charging your smartphone, and this can be done overnight to have a full charge ready in the morning. 
2021 Fully Charged Live Festival
The triple record-holding Mustang Mach E also makes a special appearance at the 2021 Fully Charged Live Festival at Farnborough International in Hampshire, UK, along with other electric vehicles from around the world. The Ford drivers host a live panel where attendees ask them questions about their record-breaking accomplishments at the event.    
If the Mustang Mach E captures your interest, let us help you drive home a brand new 2021 Mustang Mach-E and experience the incredible power and world-class engineering that comes with owning one. Start your order with us at Wayne Akers Ford, and our professional staff will prepare your order for timely delivery. For any questions about your order, or if you are looking for another vehicle, you can submit our contact form, and we will assist you throughout your shopping experience. You can also give us a call!
Image Source: Ford