Ford Revealed It's All-Electric F-150 "Lightning" Truck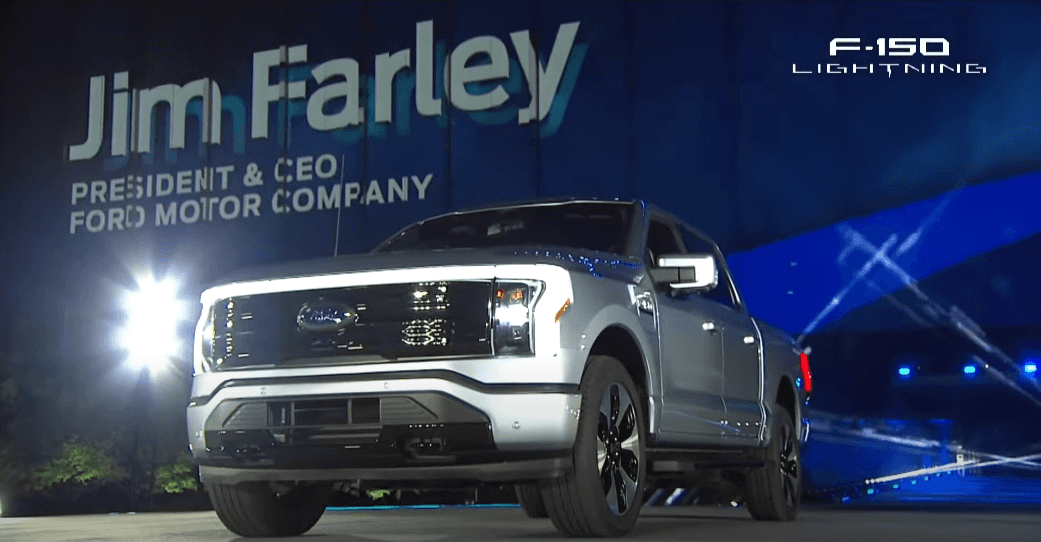 The "Lightning" name returns to the F-150 nameplate in an all-electric truck platform that Ford recently unveiled via live stream on May 19, 2021. The debut took place at the company's World Headquarters in Dearborn, Michigan, and can also be seen in a 30-minute video on the Official Ford YouTube Channel. The elaborate presentation took place outdoors with a spectacular display of cinematics, colors, and lights that made a positive lasting impression on viewers. According to Ford, deliveries of the new F-150 Lightning will take place in spring 2022 if everything goes according to its production schedule. Prospective buyers can now reserve their truck with a $100 deposit along with their selection of a Ford dealership of their choice.     
Capability and Technology
The 2022 F-150 Lightning has generator-like capabilities that will enable it to power homes, other EVs, and appliances according to Jim Farley, the CEO of Ford. This will be a top-selling feature for the new truck that will enable it to sell well among truck buyers and consumers that look for maximum utility in a vehicle. The new F-150 Lightning will be faster than the older models of the late 1990s and early 2000s and will feature over-the-air-updates just like the Mustang Mach-E. 
Ford's BlueCruise hands-free technology will be available on the F-150 Lightning as well that features semi-autonomous driving. The F-150 Lightning is similar in size and shape compared to its gasoline-powered brothers, but the main difference is the illuminated light bar that stretches across the top of the front grille. In addition to new and updated taillights that connect into one long beam on the upper portion of the tailgate. 
Next-Generation Electric Truck
As the new wave of electric vehicles starts to saturate the automotive market, Ford is confident that its new F-150 electric truck will be a game-changer in the truck segment. Upon its release, the F-150 Lightning will directly compete with the GMC Hummer EV, the electric Chevy Silverado, and the Tesla Cybertruck. Ford says the Lightning truck will come in two battery-pack configurations. Two lithium-ion battery packs are available: a Standard Range pack, which has an estimated range of 230 miles, and an Extended Battery that provides an estimated 300 miles of driving range. 
Performance Specifications
The truck's powertrain setup with the smaller pack is rated at 426hp while the larger pack puts out 563hp for increased power. Every F-150 Lightning truck has a dual-motor and an available all-wheel-drive setup. Ford states that the F-150 Lightning has a claimed 0-60 acceleration time in the mid-4-second range with the bigger pack. 
Interior and Infotainment
The Lightning's interior has a 12-inch digital gauge cluster and a 12-inch touchscreen on the center dash that comes standard on the XLT trim. The higher trim levels have an even larger 15.5-inch vertically-oriented touchscreen that's powered by Ford's latest Sync 4A infotainment system with a physical turning knob for added functionality. 
Pricing and Release Date
They will be a total of four trim levels for the 2022 Lighting truck: Base, XLT, Lariat, and Platinum. The starting price is $39,974. It's a huge selling point that not only is it below $40,000 (making it competitive with traditional combustion pickups), Ford also has plenty of federal subsidies i/a/o $7,500, bringing the price down even more.
Reserve your 2022 Ford F-150 Lightning with us at Wayne Akers Ford, we are your vehicle hub for everything Ford! Start your reservation today and we can help you finalize your order in the future in preparation for delivery. You can also visit our dealership or fill out our contact form to learn about our amazing deals and discounts on our latest inventory of capable trucks for commercial or personal use. Call us today!
Image Source: Ford