Over-The-Air Updates Scheduled for Mustang Mach-E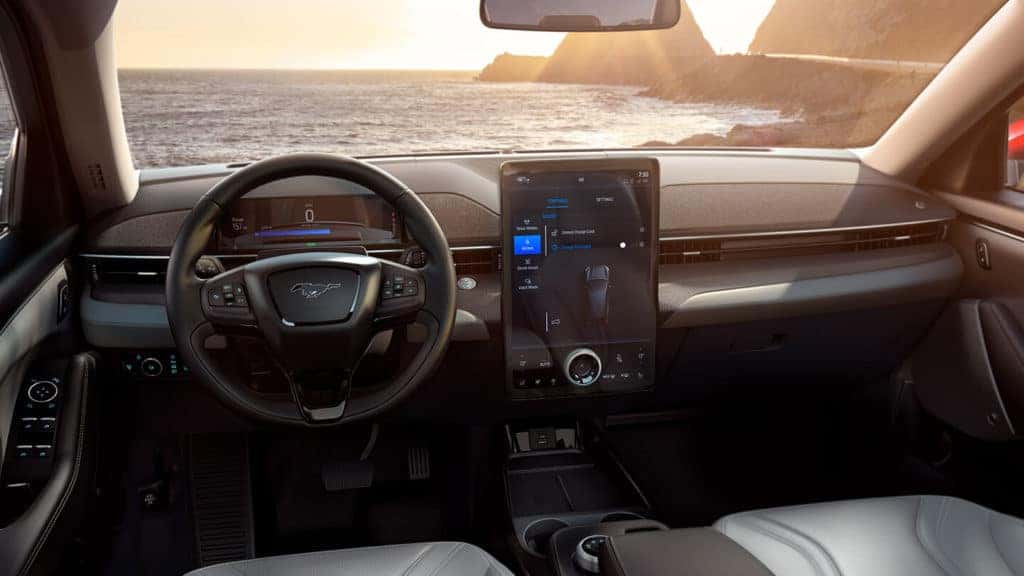 Image Source: Ford.com
Ford has revealed their new over-the-air software update process so now Mustang Mach E owners can have all the latest software available from Ford without the need to buy a new vehicle to stay up-to-date with technology. By implementing over-the-air updates, Ford has set out to rival Tesla and be a worthy competitor in the EV segment. Ford's over-the-air-updates are going to be beneficial in the future as they carry the potential to prevent vehicle recalls and software bugs. By optimizing the driving experience, Ford is committed to delivering all the latest software updates to consumers so they can always experience the best and most up-to-date infotainment features.
How Updates Will Work
According to the Official Ford Site, the Mustang Mach E's in-vehicle display will notify the driver the first time they start their vehicle within 24 hours of the scheduled update. At 12 hours before the installation, other channels such as the Ford Pass™ App or linked email will alert the driver. There is also a toggle button in the settings to opt-in for automatic updates, a very convenient feature that Mach E owners will find very helpful.
Ford's SYNCⓇ 4 Technology
SYNCⓇ 4 is Ford's latest vehicle information and communication software that comes included in all Mustang Mach E models. This technology offers features designed to keep drivers connected to people, places, and apps. SYNCⓇ 4 has twice the computing power of SYNC 3, which means it is faster and more responsive. For drivers who own a Ford vehicle with the SYNC 3 system, they will not be able to upgrade to SYNCⓇ 4, this is mainly due to hardware and software differences that are not backward-compatible. Car buyers who wish to upgrade to the new SYNCⓇ 4 system will have to upgrade to a newer Ford vehicle. The Mustang Mach E's 15.5-inch touchscreen display communicates to the driver key information such as real-time updates, battery charge, vehicle range, voice recognition capabilities, charging station information, and much more.
Connecting to Wi-Fi
Just like the way smartphones receive their updates, they need to be connected to a network, and it is the same with the Mustang Mach E's system. In order to receive over-the-air updates, drivers need to be connected to their preferred wi-fi network to initiate the installation.
Establish an Update Schedule
According to Ford, some updates will download in the background with no problems, while other updates will require the vehicle to be stationary. The new SYNCⓇ 4 system also gives drivers the option to schedule updates on a time frame that is most convenient to them. Updates can be set for overnight or during work hours. In the event the driver forgets to initiate the updates, they will be reminded by notifications via their linked email and the Ford Pass™ App.
Downloading and Installing
With a connected wireless network and a set schedule, Mach E drivers will seamlessly receive updates without any interruption. Once an update is sent to the vehicle, over-the-air-update icons will appear on the touch screen alerting the driver.
Never Miss An Update
Ford is striving to be a worthy competitor in the EV segment and is constantly providing a better infotainment experience for all their customers. By continuing to innovate and optimize the SYNCⓇ 4 platform, Ford is offering its customers the latest in infotainment and vehicle information interface technology that drivers will find convenient and intuitive. To learn more about the 2021 Mustang Mach E, contact us at Wayne Akers Ford. You can also check out our Mustang inventory for amazing deals that you don't want to miss! By filling out our contact form, we will also be able to answer any questions you may have on a particular vehicle that interests you. We look forward to hearing from you!