Reservations for F-150 Lightning and Maverick Truck Sky-Rocket While Bronco is Sold Out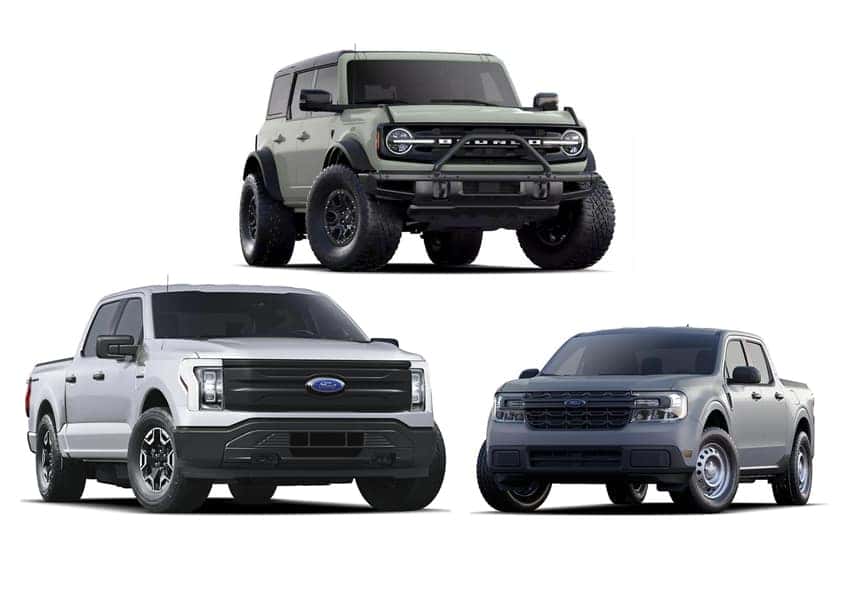 Ford is having a great 2021 calendar year so far, and investors anticipate a positive future for the company in the months ahead. Consumers continue to make reservations for their favorite models, including the Bronco, the F-150 Lightning, and the Maverick Hybrid truck. At the 2021 Deutsche Bank Global Auto Industry Conference, Ford CEO Jim Farley stated to investors and other industry officials that converting reservations into orders takes time. As a result of the recent chip shortage impacting many other automakers, vehicle inventory levels are low, with inventory levels going back to normal in 2022 via Ford projections.
Two Years Of Sales Orders for the Bronco
Reservations for the 2021 Ford Bronco reach 190,000 units, a significant accomplishment for the company. Production is currently taking place to convert 125,000 units into orders, with the rest of the units following soon after. Jim Farley also states the Ford Bronco is sold out for two years to meet production schedule deadlines for current reservations. As an off-road-oriented vehicle, the Ford Bronco is becoming a successful vehicle nameplate perfect for road trips, driving through off-road trails, traversing through water and mud, and even over large rocks.
F-150 Lightning Reservations
The 2022 F-150 Lightning has a starting price tag of $39,974 (plus destination fee), a very attractive price point for an all-electric pickup truck. The F-150 Lightning goes on sale in May 2022 for the general public, but Ford is currently converting 100,000 reservations into orders, with about 10 percent being for the Pro Version. To capture the EV truck segment, Ford is accelerating its production schedule for the F-150 Lightning to get them in the hands of consumers as soon as possible and have them driving on the road.
Ford Maverick Reservations
The smallest pickup truck in Ford's truck line-up is the all-new Ford Maverick hybrid pickup truck that hit 40,000 reservations in the first week of its unveiling. As a compact truck platform, the Maverick is the most affordable consumer truck Ford offers, with a starting base price of $19,995 (plus destination fee). Ford's primary target market for the Maverick is budget-oriented consumers and first-time truck buyers looking to purchase a truck that is not too large but still has plenty of utility and towing capability.
Get on the Reservation List Today
Get started today and reserve your F-150 Lightning and reserve your Maverick Hybrid truck by selecting Wayne Akers Ford as your home dealership for delivery. If you are interested in a new Ford vehicle, submit our contact form for vehicle inquiries and general questions, and our friendly dealership staff will assist you. Also, check out our deals and discounts on our latest inventory of capable trucks, mustangs, and SUVs. Visit or call us today!
Image Source: Ford