The 2021 Ford Bronco Will Receive Its Own Show Rooms in Collaboration with 100 Ford Dealerships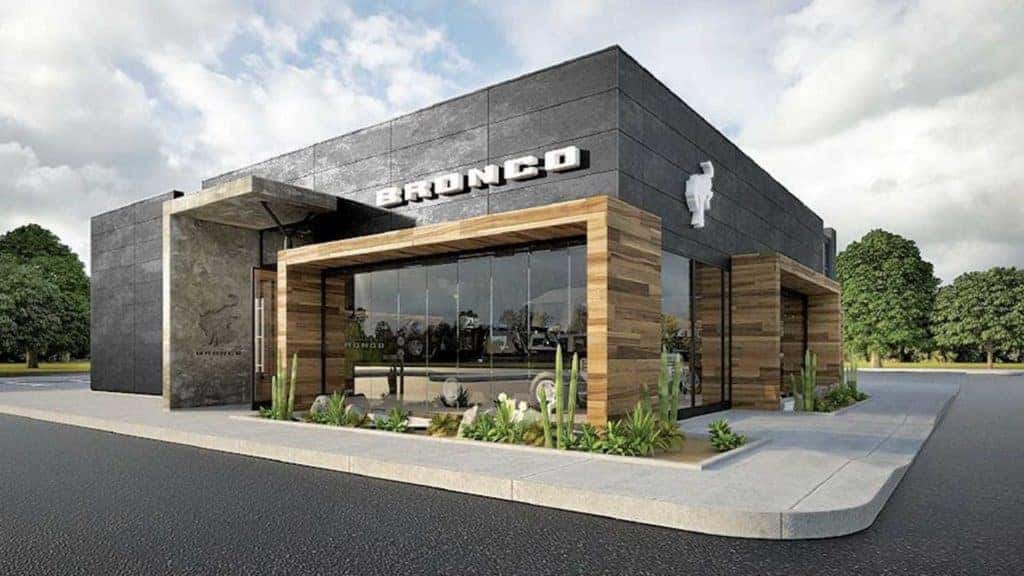 One of Ford's latest marketing strategies includes collaborating with 100 Ford dealerships throughout the United States to build showrooms dedicated to the all-new 2021 Ford Bronco. Ford is confident this approach will encourage consumers to buy the Bronco and increase unit sales. According to Automotive News, these Ford dealerships will build separate bronco stores within close proximity of their dealership locations. Very recently, Ford has been encouraging its dealerships to spend more money promoting the Bronco brand to meet sales targets. There are no current blueprints that show how the stores will look like, but there are several 3D renderings found online (like the image for this article) that showcase how they will possibly look once they are built.
News and Fast Facts
Automotive News

states that Ford will introduce a new voluntary program that will encourage Ford dealerships to create dedicated Bronco stores that will house at least three Broncos, a display wall for accessories, and a fire pit.

Ford's store strategy will enable more Broncos to sell and give consumers greater access to Bronco accessories

Dedicated Bronco stores may possibly have a service department for maintenance and repair Bronco owners will find convenient
Ford's Showroom Strategy
Having a separate store dedicated to the Bronco brand will allow Ford dealerships to display and sell more accessories which is a great way to increase profits. Another American brand that has its own dedicated showrooms is Jeep which currently displays its top-selling models. To stay ahead of the competition in the off-road SUV segment, Ford has plans to build dedicated Bronco stores that will resonate with Bronco enthusiasts and new buyers. In the company's thinking, Ford believes that if dedicated stores are built for the Bronco, people will be compelled to see all the new Bronco accessories and experience all the inside amenities the store will offer such as a lounge area, a parts and accessories department, including dedicated staff and professional sales personnel. By isolating the Bronco brand from other Ford vehicles, Ford believes that it will evoke a sense of exclusivity and uniqueness that will make the Bronco stand out.
The 2021 Ford Bronco
Prospective buyers who are thinking of buying a Ford Bronco will find that their purchase will be a worthwhile investment that will offer plenty of off-road fun and versatility. The base two-door Bronco starts at $28,500 (plus destination fee) with an optional four-door model for purchase as well. There are a total of seven trim levels for the Ford Bronco that include: Base, Big Bend, Black Diamond, Outer Banks, Badlands, WildTrak, and First Edition. They are all available with two powertrains that include a standard 2.3 L EcoBoostⓇ I4 that makes 270hp and 310 lb-ft of torque, and an optional twin-turbo 2.7 L V6 that puts out 310hp and 400 lb-ft of torque. Ford also claims that there may be a hybrid powertrain in the works for the near future, but we will have to wait and see what Ford plans with their Ford Bronco line-up once sales start to pick up.
For more information on the 2021 Ford Bronco, connect with us at Wayne Akers Ford. Once you build your Bronco to your exact specifications and style, you can select our dealership for delivery and pickup. By filling out our contact form our professional staff will also be able to answer any questions you may have on the ordering and delivery process. You can also check out our current SUV inventory, we have great deals and discounts you won't want to miss!
Image Source: Ford