2021 Ford F-150's "Pro Power Onboard" Feature Acts as Mobile Generator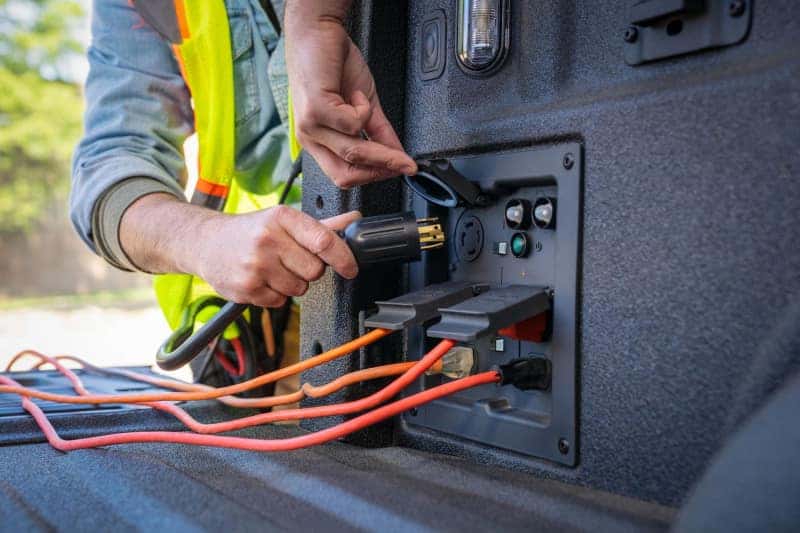 Image Source: Ford
The Ford F-150 Hybrid receives an extra feature of functionality that will come in handy during power outages and in situations where power may not be readily available. For the Ford brand, this is a step in the right direction, as consumers can now have access to power when they need it most. Useable power is Ford's strategy with their new F-150 Hybrid and prospective buyers can find this feature helpful in areas such as construction sites, camping grounds, desert environments, and even in harsh cold regions where power is sometimes limited. For trucks in the market today, their main selling points are aimed at their utility such as hauling capability and cargo capacity, but the Ford F-150 takes it a step further by offering a third selling point that will be very attractive to buyers that are often on the road and that are in need of an immediate power supply. Ford's mobile power play is a wise investment in the pick-up segment and they are confident buyers will be pleased by the on-board generator's potential.
Three Available Configurations
There are currently three generator options available, there is a 2.0 KW system that is compatible with any gas-engine F-150 except for the standard 3.3 L V6, a 2.4KW system that is standard on the new F-150 Hybrid, and an optional 7.2 KW system only on the Hybrid.
| | | |
| --- | --- | --- |
| Power Supply | Recreation | Work |
| 2.0KW (2,000W) | Sandwich makers, Blenders, Game Consoles, TVs | Saws, Hammer drills, Jigsaws, Sanders |
| 2.4KW (2,400W) | Microwaves, Blenders, Game Consoles, TVs | Saws, Hammer drills, Jigsaws, Laser Printers |
| 7.2KW (7,200W) | Space heaters, Coffee Makers, Blenders, TVs | Welders, Air Compressors, Saws, Hammer Drills, Laser Printers |
This table is only a summary of the objects that can be powered by the Ford F-150 Hybrid's generator, for more detailed information on the capabilities of the onboard generator, visit Ford's Official site for a comprehensive look at the features of each configuration.
Utility and Functionality
Ford's mobile power capabilities make it a great pickup truck for camping and other outdoor activities where power is not readily accessible. The 2.0KW and 2.4KW systems can make tent camping a lot easier, but it's important to keep in mind that the truck will have to be left idling so the generator can utilize the truck's engine to generate power. Nevertheless, the ultimate capability of Ford's onboard generator is unleashed in the 7.2KW system that has the potential to be the ultimate camper trailer rig. The 7.2KW configuration is designed for a 240-volt, 30-amp output that is more than enough to run all the systems on a huge camper trailer. The trailer's air conditioner, fridge and freezer, lights, and just about everything else can be run even while the truck is pulling it, not just when it's stopped and parked. It can also recharge electric all-terrain vehicles and dirt bikes while you're driving. Ford also claims there is no impact on hybrid performance while the system is running and when the Pro Power Onboard system is activated.
Pro Power on Board
For the consumer that wants to know how Ford's onboard generator works, the Pro Power Onboard system transforms the truck's engine into a generator that provides power to an inverter, which then turns it into usable energy, that can power a number of appliances like laptops, welding tools, loudspeakers, camper trailers, and in an emergency, it can even power a home in the event of a power outage. The system sends power to outlets in the truck's cabin and in a new dedicated panel in the truck's bed. The system can be enabled or monitored through the FordPass smartphone app or via the truck's infotainment system. If too much power is being used at any given time, the system disables itself and a notification is sent to the app user. On hybrid models, the Pro Power System will automatically turn on the gasoline engine as needed to ensure consistent power flow without draining the battery. (On non-hybrid F-150s, the engine has to be running for the Pro Power System to work.) Surprisingly, the generator system even works while the truck is moving, so individuals can power their fridge on the way to the tailgate or keep their power tools charged as their drive between job sites.
How Long Can it Last?
The hybrid 2.4-kW system will run for 85 hours on a full tank of gas at a maximum load of 2,400 watts while the 7.2-kW system will go for 32 hours under the same max load conditions.
Control it From the Mobile App
The FordPass app for smartphones allows F-150 owners to both monitor and control the Pro Power system. F-150 drivers can see what the load is on each circuit, if the system is activated, and more, from any location, where there is a stable connection. To control it, the app user needs to be within the truck's onboard Wi-Fi range of about 30 feet. From that range, the user can turn things on and off, and adjust as necessary.
Safety and Precaution
When electricity is involved, safety precautions are always taken into consideration. Ford's secure idle and utility idle functions come into play here, meaning the truck can be left idle and be locked. If the system detects a ground fault, it immediately shuts off, giving the user the option to reset the system via the interior console touchscreen or the FordPass app. If it detects a critical fault somewhere in the system, it will disable itself and require a trip to a dealer for diagnosis, also notifying the owner via warnings on the screen and phone app.
For more information on the new 2021 Ford F-150 Hybrid, contact us at Wayne Akers Ford to place your order or test out the new onboard generator. You can also check out our available F-150 inventory for amazing deals on a wide selection of new and used F-150 trucks.