2021 Shelby GT500 and Mustang Mach 1 Build and Price Tool Now Available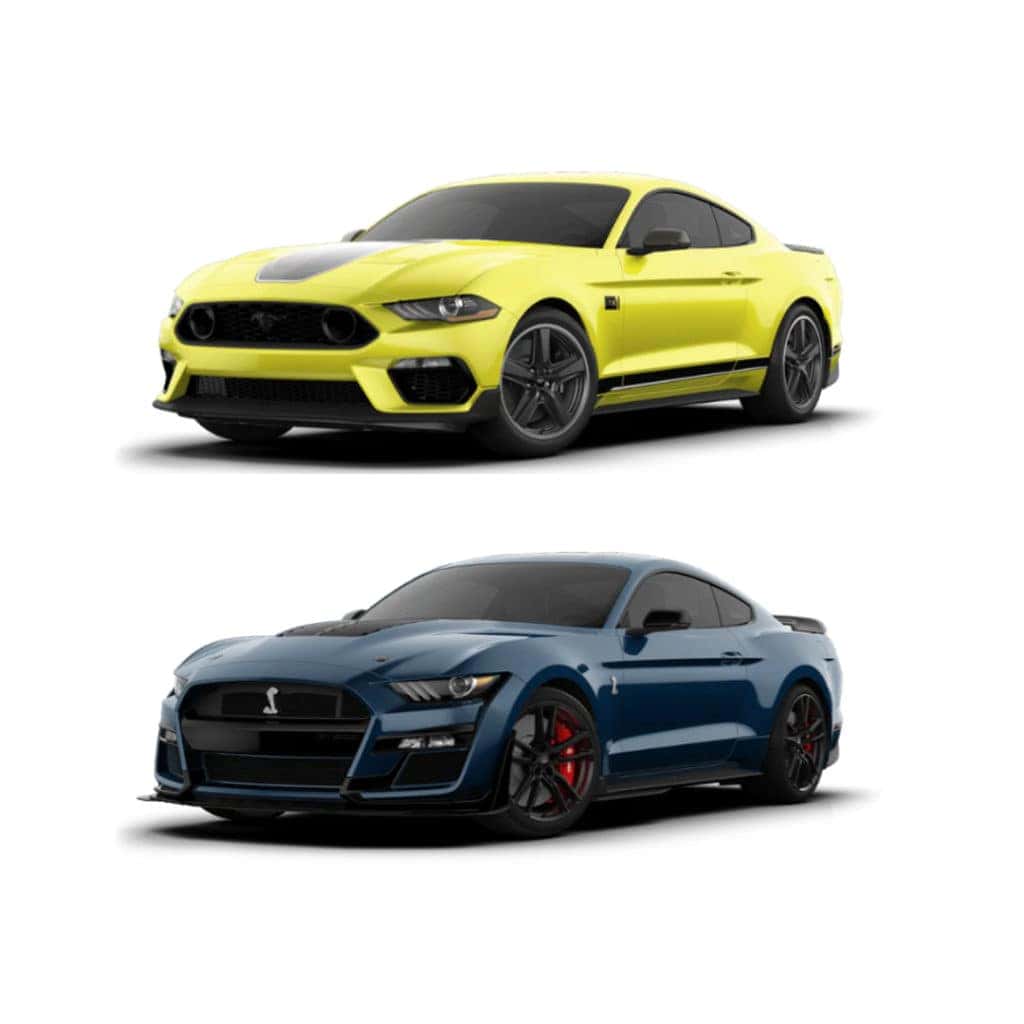 Image Source: Ford
This is great news for muscle car enthusiasts because the vehicle configurator for the 2021 Mustang Mach 1 and Shelby GT500 is now available. If you are a potential buyer, you can start building your own Mustang on the Official Ford Site with a variety of exterior color options, interior materials, performance packages, wheel configurations, and transmission options. The two pony cars will be arriving in dealerships nationwide in spring (2021), but while we are waiting for the roll-out, in the meantime prospective buyers can spec out their ideal Mustang on Ford's live vehicle configurator.
Interested buyers can build the new Shelby GT500 to their exact specifications and with the available new carbon-fiber handling package, Ford's new pony car will look even more aggressive and handle better for those track days and speed runs. The new Mustang Mach 1 will have new standard features such as specially tuned MagneRide shocks, a reinforced steering intermediate shaft, optimized electric power-steering, stiffer anti-roll bars, and front springs. For the 2021 model year, the GT500 as well other Mustangs will receive three new color options such as Grabber Yellow, Antimatter Blue, and Carbonized Gray Metallic.
Details on the 2021 Mustang Mach 1
The upcoming Mustang Mach 1 will be receiving the Mustang Bullitt's V8 engine but will take some inspiration from the outgoing Shelby GT350, such as its manifold, oil-filter adapter, and engine oil cooler. Coupled with a legendary V8 engine and track-inspired performance enhancements, the 2021 Mustang Mach 1 is capable of going 0 to 60 in about four seconds. The new Mach 1 also takes the GT350's front and rear subframe with stronger bushings, including the rear-axle cooling system, rear toe link, and diffuser from the GT500. For added handling capability, there is an optional handling package, but it is only available with the six-speed manual transmission.
If exterior styling is a deciding factor when buying a Mustang, prospective buyers won't be disappointed, there is an available appearance package that consists of black-colored side and hood stripes with red, white, and orange accents.
2021 Mustang Mach 1 Profile:
Engine – 5.0 L Ti-VCT V8
Transmission – TREMECⓇ 6-speed manual transmission (with Rev Matching), an optional 10-speed automatic transmission is also available, with rear-wheel drive.
Performance – Capable of 480 hp with 420 lb-ft of torque, 0-60 in about 4 seconds
The good news:
Ford is now accepting orders for the limited-edition Mustang Mach 1 which will be priced at around $52,915 (dealership delivery fees apply)

The Mustang Mach 1 is a culmination of the very best from the Mustang Bullitt, GT350, and some performance elements from the GT500.

The Mustang Mach 1 will be available for financing or lease in Spring 2021.
Configuration Options
The 2021 Mustang Mach 1 will be available in two trim levels:
Mach 1 Base:
5.0L Ti-VCT V8 Engine

19″ Tarnished Dark-Painted Low Gloss Aluminum Wheels

Hood Accent Stripe

Mach 1 IP Badge with Unique Chassis Number
Mach 1 Premium: (Includes all features from the base trim plus more)
Aluminum Foot Pedals

Cloth Heated and Cooled Front Seats

Heated Steering Wheel

Memory Driver Seat
Overview of 2021 Shelby GT500
The fastest and highest-performing variant of all of the Mustangs, the 2021 Shelby GT500 boasts a whopping 760 ponies made possible by its supercharged V8 engine. This makes the GT500 the most powerful production car to ever have come off the Ford assembly line to date. In partnership with Shelby American Inc., Ford has produced the most immersive Mustang that will appeal to muscle car enthusiasts and they will be pleasantly surprised. The GT500's quad exhausts will produce thrilling and adrenaline-pumping super load exhaust notes that will give the GT500 a deep raspy tone with the occasional exhaust crackle. Unfortunately, the automotive industry is slowly doing away with the manual transmission, so the 2021 Shelby GT500 will only be available in a seven-speed dual-clutch automatic configuration.
Fuel economy numbers aren't great when considering the Shelby GT500, it's better to go for a more eco-friendly or fuel-efficient Mustang, like the highly anticipated Mustang Mach E, because the GT500 gets awful fuel economy and it's quite expensive to run. But most buyers of this type of vehicle don't buy it for that reason, they get in a Shelby GT500 to experience its performance which is the main selling point for the Mustang line-up. For prospective buyers that are willing to put down some serious dough, Ford has included an available Carbon Fiber Handling Package which is a $10,000 upgrade. This performance package includes 20-inch carbon-fiber wheels, strut-top mounts that are adjustable, and a rear spoiler. If that wasn't enough, opting for the Carbon Fiber Track Package, an upgrade that costs $18,500 will give the new GT500 some serious track performance that will unleash its full muscle car potential. This package comes with Michelin Pilot Sport Cup tires, a GT-style rear spoiler, and a beautifully crafted carbon-fiber instrument panel in the interior.
2021 Mustang Shelby GT500 Profile:
Engine – Supercharged 5.2 L V8
Transmission – 7-speed dual-clutch automatic transmission with rear-wheel drive
Performance – Capable of 760 hp with 625 lb-ft of torque, 0-60 in about 3 seconds
Configuration Options
The 2021 Shelby GT500 comes in only one trim level since it is fully loaded and the highest performing Mustang in production, all the goodies are available in one offering.
Shelby GT500:
5.2L Supercharged Cross Plane Crank V8 Engine

TREMEC® 7- Speed Dual Clutch Transmission

20″ Flow-formed High-Gloss Black Aluminum Wheels

Leather-Trimmed Sport Seats
Should You Buy One?
Buying or leasing a new Ford Mustang depends on your driving style and your daily driving needs, if you don't need the extra space of back-row seating and enjoy the thrill of getting behind the wheel of an American sports car, then a Mustang can be a worthwhile investment. For the 2021 model year, the Mach 1 is the more affordable one and can be a great option for daily driving, while the GT500 is geared toward track-performance. For more information on the new 2021 Mustang Mach 1 and Shelby GT500, contact us at Wayne Akers Ford to place your order or schedule a test drive. Check out our available Mustang inventory for amazing deals on pre-owned and outgoing models.