2022 Ford Ranger Receives "Splash Appearance Package"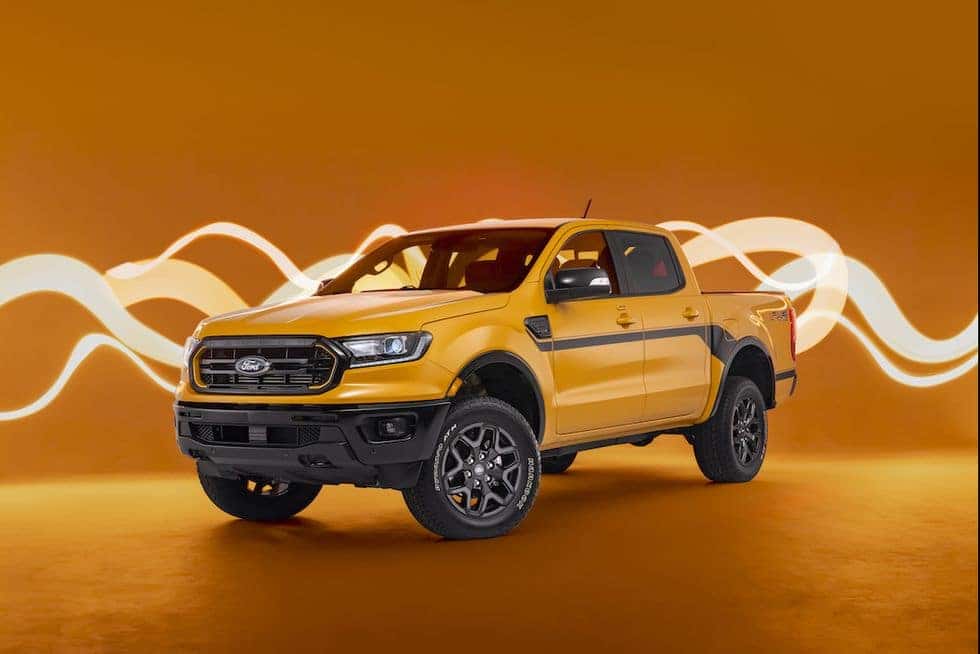 Many automakers usually offer special editions or "add-on" packages to enhance their exterior and interior aesthetics for their best-selling models. This is typically done to keep consumers engaged with the brand and often commemorates the vehicle's success on the market. Ford announces the reintroduction of the "Splash Package" seen on some Ranger pickups from the 1990s. This package adds unique body art and distinctive interior accents that make the 2022 Ford Ranger special. Enthusiasts of classic and retro-styled pickup trucks will appreciate that Ford brought back this nice touch from the past.
Splash Package Design
In terms of exterior design, the Splash Package is an immediate eye-grabber with its orange and black vinyl graphics along with its matte black 18-inch wheels. The front nose grille incorporates orange accents, and other areas of the pickup truck, such as the bumpers and fender vents, are coated in gloss-black paint. On the interior, the front and rear seats feature orange contrast stitching enhancing the overall appearance of the cabin.    
Limited Editions Coming Soon 
In addition to the Splash Package, Ford is also planning on introducing other Limited Editions of the 2022 Ranger that include exclusive wild colors. They are likely to be released one by one every few months with a limited production run of a few hundred units. It is uncertain how many Limited Editions Ford intends on manufacturing, but the Limited Edition Series starts with the Splash Snow Edition. Ford has not announced pricing figures just yet. However, more information is expected to be released in the upcoming months.     
Package Cost and Trim Offerings
The Splash Package costs $1,495 and is available on the XLT and Lariat trims (but only with the crew-cab body style). However, the Splash Package can be combined with other add-ons such as the FX2 and FX4 packages (for road-off capability). Ford commits to deliver brand new 2022 Rangers with the Splash Package by the end of Fall 2021. The Ford Ranger is one of the few mid-size pickup trucks on the market that offers the most vehicle packages and add-ons on top of its standard equipment. Regarding vehicle pricing, the XLT starts at $29,120, and the Lariat goes for $33,160 (please keep in mind pricing is subject to change to accommodate destination fees and other optional equipment). 
The Ranger also has admirable fuel economy figures provided by its 2.3 EcoBoost L 4-cylinder engine produces 143hp and 154 lb-ft of torque. Drivers can expect 21mpg in the city and 26mpg on the highway with a combined 23mpg of mixed driving. With its 15-gallon fuel tank, the Ranger provides about 345 miles of driving range before it needs to refuel. For extra power, opting for the larger 4.0 L V6 engine is a recommendable option (especially for towing) with an increased output of 207hp and 238 lb-ft of torque. The 2022 models are arriving soon, but we need to clear our onsite inventory of 2021 Ford Ranger pickup trucks today! Come visit us at Wayne Akers Ford and let us assist you in getting the best deal on a Ford Ranger. Whether you are leasing or financing, we offer flexible payment options so you can shop easier for your next vehicle. You can also submit any questions you have via our contact form, and our friendly staff will respond within the same day. Don't delay! Experience America's most trusted brand of pickup trucks! 
Image Source: Ford