Ford Super Duty Trucks Get Larger Infotainment Screens for 2022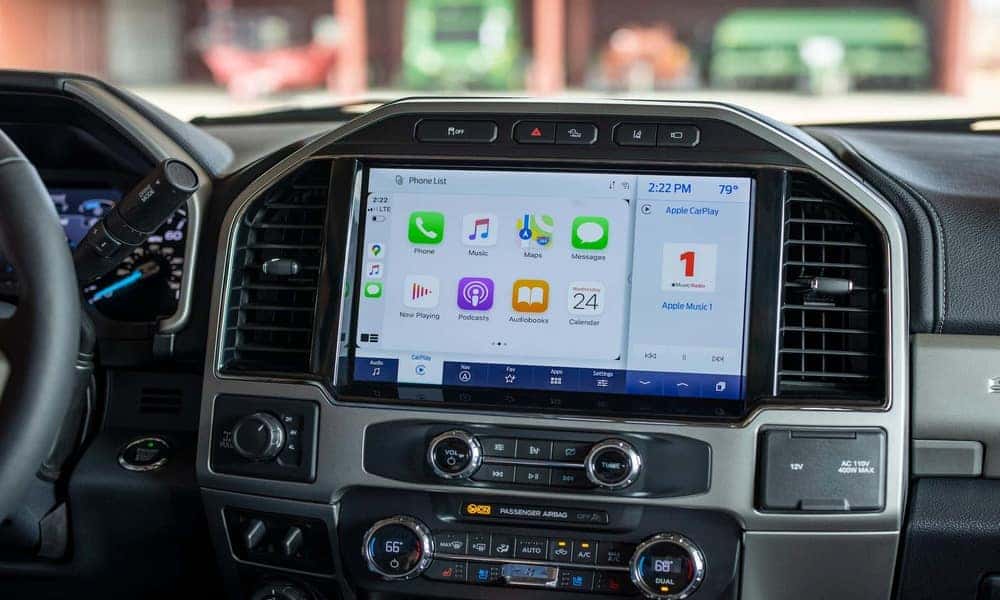 Ford has announced that it will be incorporating 12-inch touch-screen displays in their super duty truck lineup on all Lariat and subsequent trims. The new horizontal screen will house Ford's new SYNCⓇ 4 vehicle information and connectivity system that will provide drivers with all the latest features and technology at their fingertips. In an effort to compete with Ram's vertical touchscreens, Ford has developed an infotainment system that will offer premium media functions and connectivity. The new 2022 Super Duty Ford Trucks will also be receiving new colors and exterior styling packages that will offer prospective buyers plenty of customization options. The 2022 models are expected to arrive in dealerships by the end of summer 2021.
Consumer Information
Potential buyers have the option of six trim levels to choose from that are available for customization. They include the XL, XLT, Lariat, King Ranch, Platinum, and Limited. The new 12-inch infotainment screen will be exclusive only to the Lariat and above trims, while the two base model trims like the XL will receive a 4.2-inch display and the XLT will have an 8-inch display.
Here are some highlights:
A new horizontal 12-inch touchscreen will be made available on 2022 Ford Super Duty Trucks on all Lariat and above trim levels with wireless Apple CarPlay and Android Auto
The Entire Ford Super Duty Truck lineup will receive new color options and exterior styling packages

The new 2022 F-250, F-350, and F-450 will go on sale summer of 2021
Using the SYNCⓇ 4 System
The latest in Ford's infotainment is their proprietary SYNCⓇ 4 System that includes a powerful processor and features such as Cloud-Connected Navigation, Natural Voice Control, and Wireless Media Connectivity. Prospective buyers who are interested in using Ford's new system will have to opt for the Lariat or any other higher trim.
Ford's Super Duty Trucks
Ford has only implemented minor improvements for its Super Duty Trucks that include a new Atlas Blue color for the exterior, and a Baja color for the Lariat. The Limited models will receive Navy Pier and Light Slate as interior color options. For potential buyers looking to add a little more style to their truck, the Lariat trim has an available sport package that eliminates all the chrome accents and matches its bumpers, mirror, and grille with its exterior color with the addition of chrome exhaust tips and black running boards. A secondary black-appearance package is also available for the XLT trim that includes black 20-inch wheels, black-colored bumpers and grille, black running boards, and blacked-out Ford badges.
What makes Ford's Super Duty trucks strong and reliable are their powertrain options that are perfectly designed for towing and tough jobs. Ford's strategy for their Super Duty lineup is to provide consumers with extreme capability and power. The Super Duty trucks are currently offered in a 6.2 L V8 capable of producing 385hp, a 7.3 L V8 that has an output of 430hp, and a 6.7 L Power Stroke Diesel V8 that pumps out 475hp with an impressive 1050 lb-ft of torque. Offered in either RWD and AWD configurations, they can be paired to a six or 10-speed automatic transmission. But where Ford's Super Duty Trucks shows off its capability the most is with its impressive towing power of 24,200 Ibs (base weight) and a maximum of 37,000 lbs when equipped properly.
The Perfect Truck for the Right Job
A Super Duty Truck can be the perfect workhorse for any construction or towing job and with the trio of V8 engines available, truck enthusiasts can configure their ideal truck with a variety of cab and cargo options. For hauling payloads, buyers can expect their truck beds to come with a 6.75 ft bed length or a larger 8-ft box that offers ample cargo space for any occasion. For more information on the new 2022 Ford Super Duty Trucks, fill out our contact form for any questions or general inquiries. You can also visit us at Wayne Ackers Ford. We'd be happy to help you finance or lease your next Ford vehicle!
Image Source: thedrive.com