Ford's Electric Vehicle Strategy to Dominate Auto Segments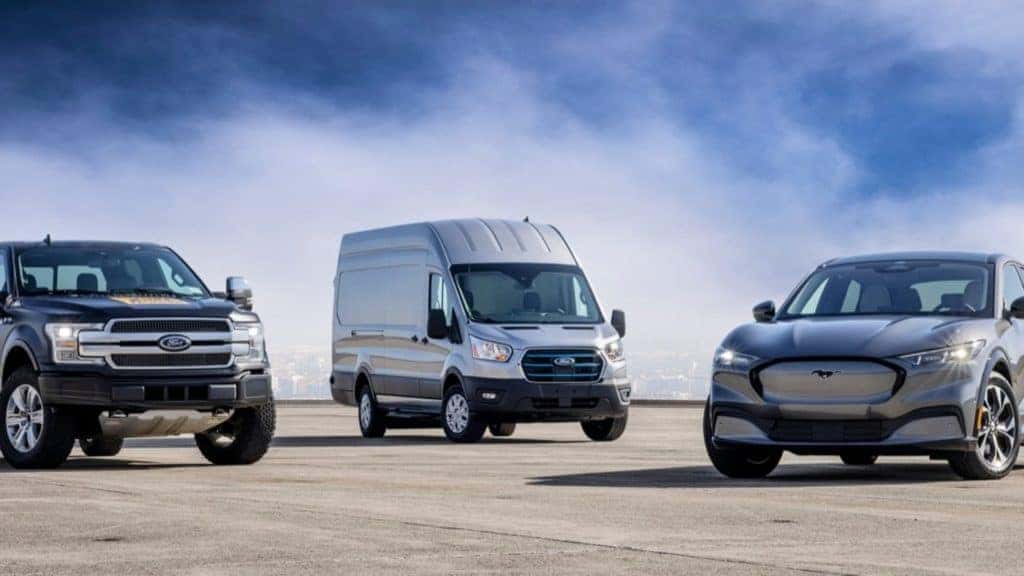 Image Source: Ford
In a rapidly changing automotive industry, brands like Ford are constantly trying to innovate and adapt to changes in the market. This includes anticipating automotive trends that will emerge in the near future and capitalizing on them. When it comes to innovation, Ford is tackling the next decade with a game-changing electric vehicle (EV) strategy that will give consumers affordable EV options in three facets: passenger vehicles, pickup trucks, and commercial Vans with the production of future models being a possibility. Just like the Tesla brand, Ford is striving to showcase the potential of the EV by offering the consumer an all-electric lineup of battery-powered vehicles that will transform the way they drive cars. By providing plenty of technology and safety features, Ford hopes to capture consumers' attention in an effort to capitalize on the market in three areas that are the most crucial.
The Roll-Out Strategy
For an American brand like Ford, their sales excel in categories such as passenger vehicles, pickup trucks, and commercial vans. Including their most popular model, the iconic Ford Mustang that will continue its legacy in the highly anticipated Mustang Mach E. These are the areas Ford is going to invest billions of dollars in because the brand knows it has the potential in being a major player in the EV segment, especially by a brand like Ford that has a lot of heritage and manufacturing history behind it, their EV roll-out strategy will get major traction once the consumer market responds. Internal-combustion-engines that run on gasoline are sufficient in getting us from point A to point B, but their days are numbered due to the limited supply of fossil fuel reserves, in conjunction with the global warming argument that many environmentalists and go-green movements are pushing for today. This shift for electrification is considered by many to be a critical and essential way of combating climate change. Especially with the overwhelming amount of exhaust fumes that are produced when driving, gasoline-powered vehicles are at a disadvantage in comparison with their battery-powered counterparts. With Tesla being the current industry leader in the EV segment, Ford is ramping up their efforts by optimizing and preparing its manufacturing facilities for the production of its upcoming release of EV vehicles. Transitioning from gas-powered to electric can be very capital intensive, Ford knows this and is set on taking the chance in the pursuit of a future that can benefit the environment.
Investing in the Potential of EV's
Ford knows that zero tailpipe emissions will have the potential to greatly reduce the carbon footprint of vehicles in the US transportation sector, and this is achievable by investing in battery-powered propulsion systems that will lead the brand closer to that goal. It can be difficult to believe that a full transition to electric-powered cars will be accepted, people still love their gas-powered vehicles, especially in the sports car segment where engine performance and engine sound is vital to that culture of car enthusiast. Ford knows that great change will take some time to get used to, but for the Ford brand, it's a critical start to the future.
Upcoming Popular EV Models
In the very near future, Ford plans on releasing three models the brand believes will sell at scale and appeal to the consumer and commercial markets. Ford is investing heavily in vehicles that can be used for work, for business, and for family travel.
Here are some of Ford's most anticipated vehicles for the near future:
2022 Ford E-Transit – The Ford Transit Cargo Van will go full-electric in the United States and Canada in 2022 and will transform the way companies conduct business and transport products.
Ford F-150 E-Prototype – The iconic Ford F-150 truck will be receiving electric motors and be set to release sometime in the future, but for now it is a prototype. It is rumored the E-F150 will be capable of towing heavy trailers and fast acceleration.
2021 Ford Mustang Mach E – The popular Ford Mustang will be reborn in an all-electric crossover body style with 5-passenger seating.
How EVs Will Benefit Consumers
Ford is focused on the advent of an all-electric future, but unlike Tesla where all their vehicles are electric, Ford still has some work to do when it comes to full electrification. When consumers begin to realize the full potential of the EVs Ford will be offering soon, they will be pleasantly surprised at how their capability can improve their lives for the better. After all, as more EVs enter the market, new public charging stations will be in demand and will be established in public parking garages, shopping centers, and at the parking lot at your job, so your new Ford EV can always be charged.
To learn more about the availability of these vehicles, you can contact us at Wayne Akers Ford for more information. You can also check out our list of available inventory for deals that you don't want to miss!