Hennessey Performance Modifies 2021 Ford F-150 and Adds 775 Horsepower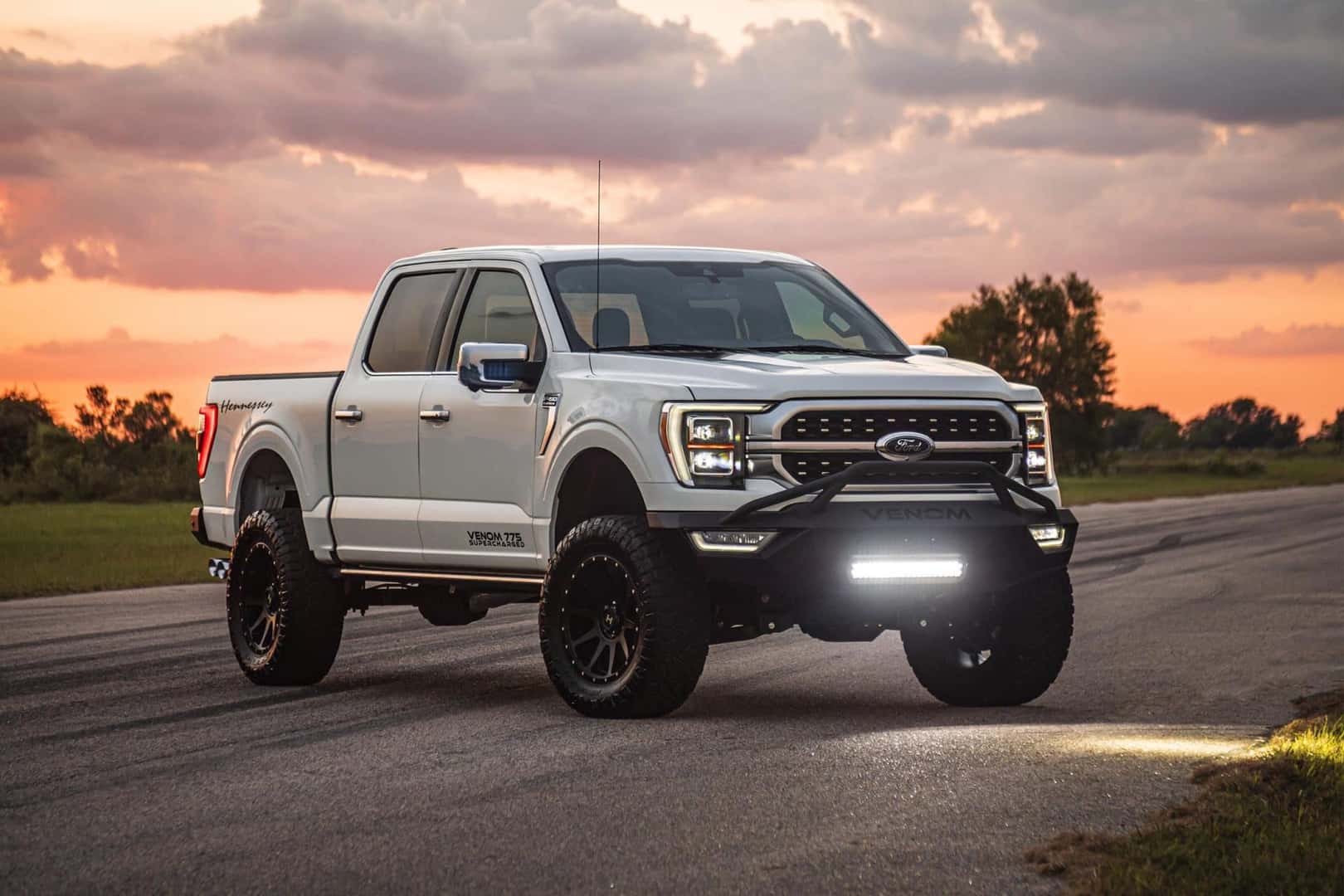 Hennessey's American tuning company modifies a 2021 Ford F-150 and turns it into a supercharged 775hp monster, which is 325 more horsepower than the Ford Raptor. Adding an engine blower under the hood makes its 5.0 L Coyote engine more powerful thanks to the air compressor that increases the pressure of air supplied to the engine. Instead of having 450hp and 510 lb-ft of torque that the Ford Raptor puts out, the F-150 Hennessey Venom has 72 percent more horsepower, which makes it a high-speed truck in a straight line. These numbers should make Dodge rethink their whole strategy with its Ram TRX and add performance adjustments to stay competitive.
A video on the company's YouTube channel shows the Hennessey Venom F-150 racing against a 2021 Ram TRX and winning the race at the Pennzoil Proving Grounds in Sealy, Texas. This shows how a couple of performance upgrades can improve the overall handling characteristics of a vehicle. Of course, with all those upgrades, getting behind the wheel of one is limited to a select handful of buyers since it boasts a price tag of over $100,000.    
Performance Upgrades
What makes this modified F-150 so impressive is its 3.0 L twin-screw engine blower, a larger throttle body, increased air intake, and an air-to-water intercooler. The 2021 Ford Raptor has a maximum towing capacity of 8,200 lbs, but the F-150 Hennessey Venom can haul considerably more weight provided by its increase in horsepower.    
Other upgrades include:
A higher-compression fuel system.

A heavy-duty tensioner.

A lightweight supercharger pulley.

Performance spark plugs.

A stainless steel cat-back exhaust system.
Special Features and Accommodations 
Every F-150 Hennessey Venom comes with exterior graphics, embroidered seats with orange stitching, and a three-year/36,000-mile warranty. Hennessey also offers chassis dyno tuning and up to 400 miles of road testing on paved roads and off-roading. To improve its off-road capabilities, the company incorporates a LED bar in the lower portion of the front bumper for more visibility in low-light conditions, a 6-inch lift kit, and 20-inch rims fitted into 35-inch tires from Nitto.
Vehicle Pricing
Hennessey has not released exact pricing figures just yet, but it's estimated the truck will cost well over $100,000. The one displayed in the video is a donor truck and a Platinum trim that starts around $60,000 in its stock configuration. If the 775hp Hennessey Venom F-150 has caught your interest, contact us at Wayne Akers Ford, and we can assist you in securing the perfect F-150 truck that best suits your needs and budget. We have a fantastic onsite inventory of new F-150 pickup trucks and various trim levels to choose from. Send us an inquiry online via our contact form, and we'll respond to answer your questions. Experience the power and durability that come with owning an F-150 pickup truck. Visit us today!
Image Source: Hennessey/Ford