Life-Size Snow Sculpture of Ford Bronco made By Ford Employee is Impressive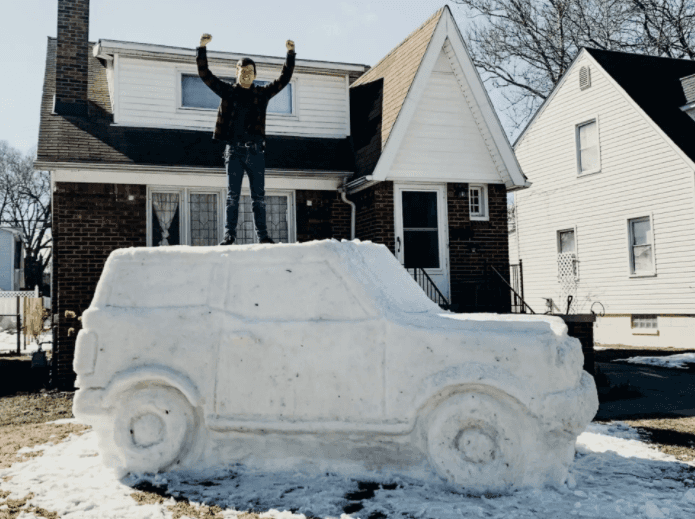 Image Source: thedrive.com
As an NVH Technician for Ford Motor Company, Jacob DiMaria's career consists of working with American cars like the Ford Mustang and other popular Ford models. With the new 2021 Ford Bronco, scheduled for release in mid-2021, DiMaria wanted to show his passion for the Ford brand. in turn, he created a full-size, two-door Bronco replica made out of the snow from his front yard.
According to news sources like thedrive.com and Fordauthority.com, it took DiMaria five days to complete the Bronco sculpture. One might assume DiMaria works for Ford as some sort of automotive designer given how impressive his sculpture came out, but on the contrary, he is employed as an NVH Technician doing vehicle testing for noise and vibration on new models, which means DiMaria will be directly working on the highly anticipated 2021 Ford Bronco identifying and solving any unwanted noise or vibration problem the vehicle may have.
Inspiration for Building the Sculpture
Inspiration for building these snow sculptures stems from DiMaria's passion for the Ford Motor Company and the amazing cars they build. Furthermore, this isn't DiMaria's first time building a snow sculpture, in fact, it has been a tradition for him to build at least one sculpture every year on something that would stand out and that his neighbors would love. In prior years, DiMaria built a 1965 Ford Mustang, and just last year in 2020, he built a snow sculpture of Michigan Central Station. He gathered the snow from his own yard and from the yards of his neighbors to construct his masterpieces. The best part is, his automotive sculptures turned out to be the exact same size as the actual vehicles, something that requires precise measurement of proportions, angles, and the use of sculpting tools, which is really impressive.
Changing Weather Conditions
DiMaria knows his Bronco snow sculpture won't last forever, as Michigan starts to warm up, Dimaria expects his masterpiece to only last about a week or two. Just like Frosty the Snowman, his sculpture may melt away as soon as the temperature starts to rise, but so long as it continues to stand in the front yard of his Dearborn home, people who drive by will be more than amazed at his work.
Buying a 2021 Ford Bronco
For the time being, the residents of Dearborn, Michigan will have to wait until mid-summer before they can get their hands on a 2021 Ford Bronco, but in the meantime, they can gaze at DiMaria's masterpiece for how precise it looks to the real deal. Jacob DiMaria gave this statement to automotive news sources regarding his sculpture, "I enjoy doing the Ford-themed sculptures each year (when there's enough snow available) because I work for Ford and so do a lot of other people in Dearborn, it's something everyone recognizes and can get behind and hopefully people can get some enjoyment out of it before the weather warms up and it melts."
For more information on the new 2021 Ford Bronco, contact us at Wayne Akers Ford to place your order and we can help you configure your new Bronco to your exact specifications. You can also check out our available inventory for amazing deals on new and pre-owned Ford vehicles.