New "Connected Touch Radio" System Available on 2022 Ford Maverick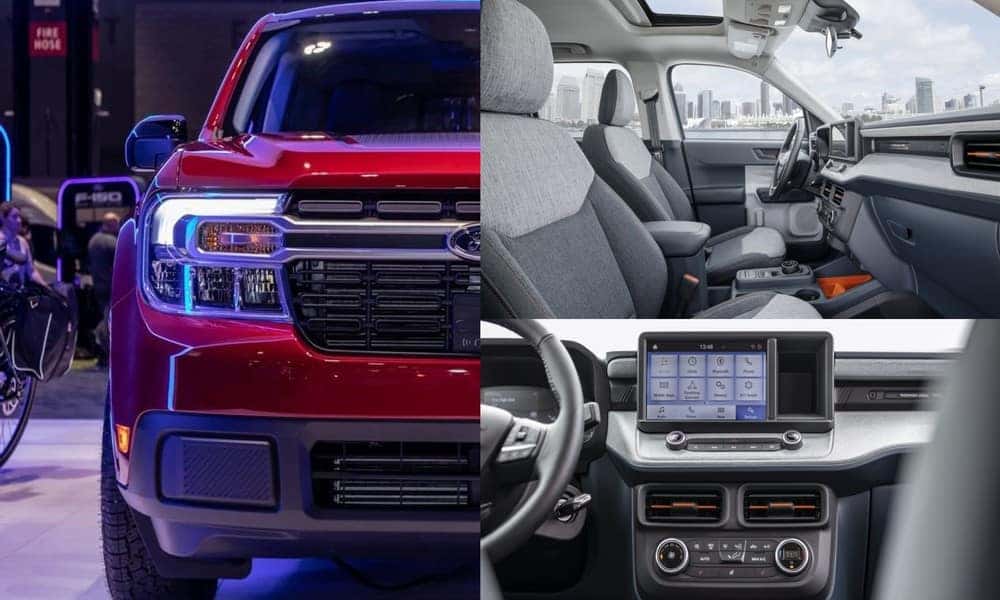 Ford announces a couple of updates for the infotainment system on the 2022 Ford Maverick pickup truck. The company reports that the XL and XLT trims do not offer SYNC 3. However, the system is available on the Lariat trim and the Lariat Luxury Package, a $3,000 upgrade. This package contains an 8-inch LCD touchscreen with standard Apple CarPlay and Android Auto Connectivity for consumers to enjoy all their favorite music and apps. But Ford also says that it's giving its system a new name – "Connected Touch Radio."
New Vehicle Information System Functionality
The information vehicle system on the 2022 Ford Maverick comes with a whole host of helpful features such as 911 Assist (which automatically dials 911 when the airbags deploy) and Applink (Ford's proprietary software that allows certain apps to run). These features all work in unison with connected smartphone devices via Bluetooth.
Connected Touch Radio
Benefits
By pressing the voice button on the information system for a couple of seconds, the Connected Touch Radio activates the phone voice assistant for hands-free calling. The system also enables drivers to change radio stations, Sirius XM channels, and climate settings by using just their voice. These are convenience features that allow Maverick owners to focus more on the road to avoid potential accidents.
Buying a New 2022 Ford Maverick Pickup Truck
Investing in a brand new Ford Maverick pickup truck is going to pay off in the long run, primarily because of its already outstanding reputation for being the most affordable compact pickup truck in the U.S., with a starting price tag of $19,995 (plus destination fee). Its fuel economy is also impressive for a truck. With its 2.5 L hybrid engine, Ford says the Maverick receives a combined 37mpg rating, an EPA-estimated range of 500 miles, and a respectable 191hp that gives it plenty of punch when accelerating on the highway.
However, an optional 2.0 L EcoBoostⓇ gasoline engine delivers 250hp and 277 lb-ft of torque, giving the driver an extra level of power. In addition, the Maverick's 4.5ft bed length is large enough for recreational supplies, work equipment, and other items. Despite its small size, the Ford Maverick is a powerhouse of a truck; with two available 400-watt 110V outlets, Maverick owners can power a variety of equipment and devices.
Optional Vehicle Packages
There are two optional "add-on" packages for drivers seeking an extra layer of capability and utility for their 2022 Ford Maverick that includes:
This package comes with two front tow hooks, Hill Descent Control, skid plates, all-terrain tires, five drive modes (Normal, Tow/Haul, Slippery, Mud/Rut, and Sand), and standard-all-wheel drive
This package enables the Ford Maverick to tow up to 4,000 lbs and includes a trailer hitch with a seven-pin connector to haul an ATV, jet ski, or camper.
Don't wait any longer and reserve your 2022 Ford Maverick today and choose Wayne Akers Ford as your home dealership for delivery. We are your vehicle hub for everything Ford! If you have any questions regarding the ordering process, feel free to contact us, and we will provide you with information on how to get started. Experience the power and reliability that comes with owning America's first hybrid compact pickup truck at an affordable price! Give us a call!
Image Source: Ford