ROUSH Performance Adds Supercharger to 2021 F-150 and Other Upgrades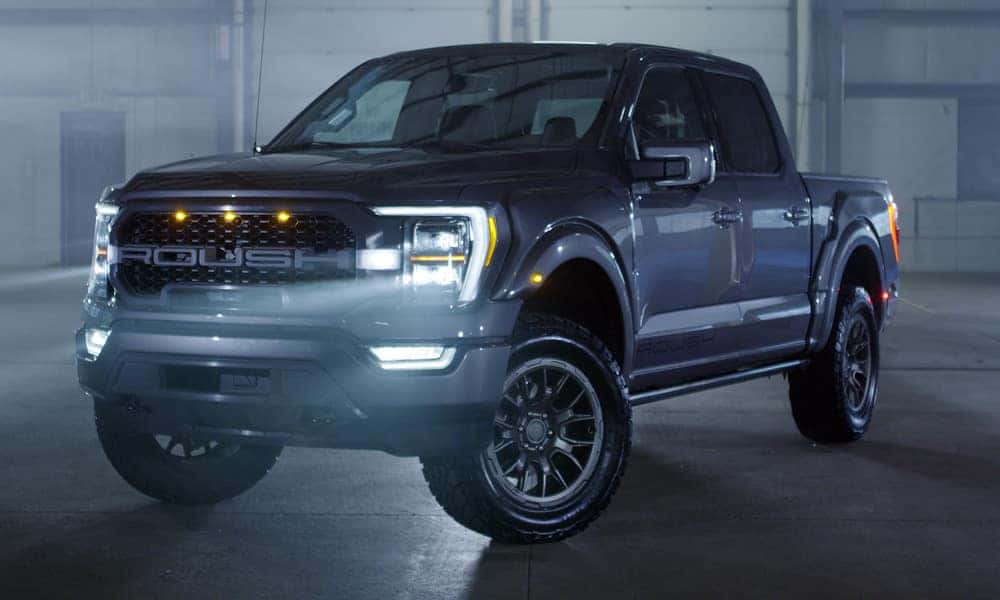 ROUSH has been engineering high-performance components for competitive racing since its founding in 1995. From a culmination of custom-tuned trucks and cars, ROUSH provides aftermarket tuning upgrades to its vehicles so customers can experience top-tier performance with authentic ROUSH style. One recent development by ROUSH is their current strategy to modify the 2021 Ford F-150. Truck enthusiasts and Ford fans are going to be impressed with what ROUSH has been cooking up in the lab.
Exterior Styling From ROUSH
Prospective buyers will immediately notice "ROUSH" engraved on the custom-designed front grille with amber white LED markers. ROUSH also has added widebody fender flares that give the F-150 a wider and more aggressive stance. Its showroom-ready appearance is definitely an attention grabber, and it's even more prominent in the demo video that was released by ROUSH's YouTube channel. A graphics package comes as standard and includes various graphics with ROUSH-branding that can be placed on the doors, hood, roof, and tailgate. For truck enthusiasts that want their ROUSH F-150 to stand out even more, there is an optional side slash graphic for $325. There are also six available color options for the ROUSH F-150 that include: Agate Black, Race Red, Iconic Silver, Oxford White, Carbonzied Gray, and Lead Foot.
Suspension Upgrades
Not only is the ROUSH F-150 an eye-grabber with its visual aesthetics, but it also has to handle well on the road, off-road, and on the track. ROUSH made sure that it was plenty capable for all three environments and incorporated a suspension upgrade that lifts the front of the ROUSH F-150 by 2-inches provided by ROUSH's custom-valved Fox 2.0 Performance Series Suspension System. Potential buyers can also expect 33-inch all-terrain tires wrapped around ROUSH-branded 20-inch stain grey wheels that give this F-150 an aggressive stance and it does it in unforgettable ROUSH style. There are still no details on the rumored "Extreme Off-Road Upgrade" that ROUSH is planning for the F-150, we will have to wait and see when the package will be released.
The ROUSH "Ready Package"
ROUSH is currently offering a Ready Package for $660 that buyers will find very useful and it includes a ROUSH-branded Off-Road Utility Kit with jumper cables, tow straps, D-ring hooks, ratchet tie-down straps, gloves, and a high-powered flashlight. For added security, the Ready Package also offers the driver a locking center console vault with a double clock to secure important belongings while on the road.
For the interior, ROUSH-branded logos are stitched on the seats, in addition to complimentary floor liners by WeatherTechⓇ, sport pedals, and a ROUSH-styled gauge cluster. ROUSH also decided to incorporate puddle lamps that display the ROUSH logo on the ground when the door opens on either side. For potential buyers who want to drive in comfort and luxury, there is an optional leader package for $1,850 as well.
Supercharger Coming Soon
The 2021 ROUSH F-150 will be equipped with a 5.0 L engine, but there are no current horsepower numbers that have been shown just yet, and according to ROUSH, a supercharger will be available in late summer 2021. What we do know, is that ROUSH's previous custom F-150s between the 2018 and 2020 model years have been rated at 650hp. We can estimate that the 2021 ROUSH F-150 will be even more powerful than previous years and even rival the 702hp 2021 Ram 1500 TRX. While we wait for more announcements from ROUSH, there are still plenty of goodies for truck and performance enthusiasts like ROUSH's $1,800 Active Exhaust System that have two toggle settings for loud and quiet modes depending on the driving occasion. All that speed and power needs to be backed by effective stopping power, and ROUSH didn't disappoint, with an optional $2,975 black-colored six-piston front brake package, buyers will receive 13.7-inch rotors that have been co-developed by Alcon Brakes that will give driver-confidence on the road.
Prospective buyers can now pre-order their 2021 ROUSH F-150 and configure their truck on the Official ROUSH Website. After the customization process, they can then send their finished configuration to our dealership at Wayne Ackers Ford to confirm their pre-order. You can also check our current F-150 inventory for amazing deals you don't want to miss! For any questions about pre-ordering, delivery, or other Ford vehicles that interest you, you can fill out our contact form for more information.
Image Source: ROUSH Performance