Rumors Suggest that Ford is Engineering A New Twin-Turbo V8 Engine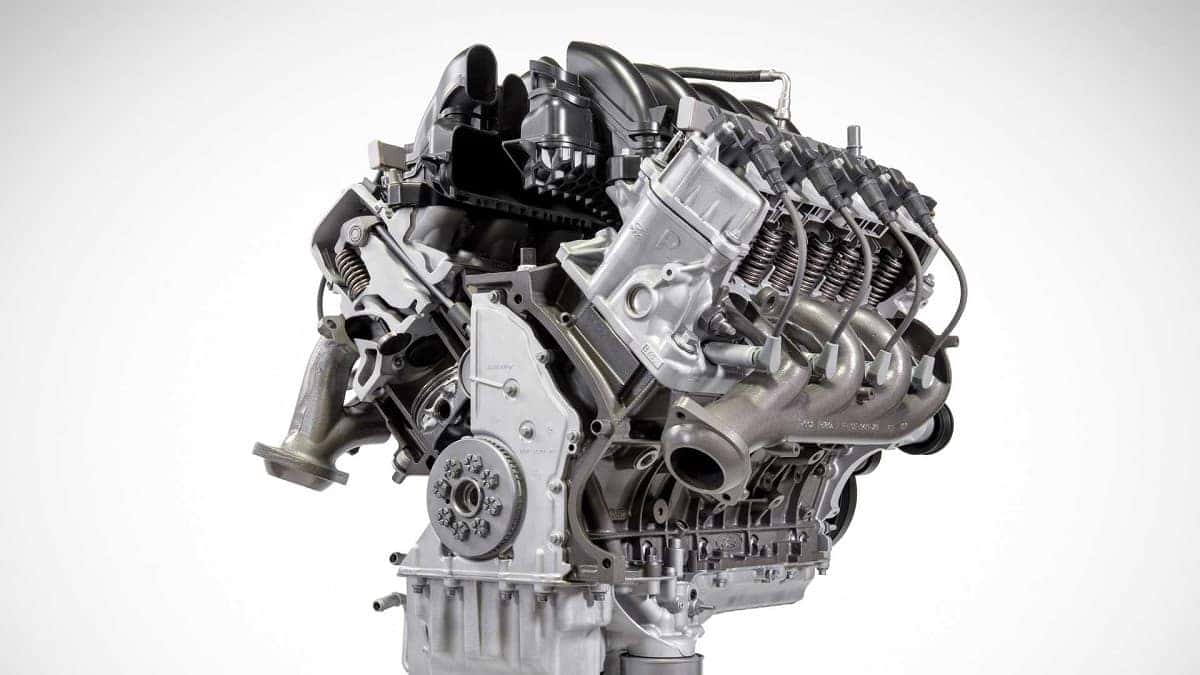 Ford is always looking to upgrade its vehicle platforms and in search of new ways to improve its engine options across its entire vehicle lineup. Even in the midst of the emerging EV market, gasoline engines still have life left in them to serve their purpose. When it comes to the development of big-block engines, Ford knows exactly how to engineer them. Ford's track record of building V8 engines dates back to the 1960s for their Ford Mustangs that competed in many racing competitions. Big power and performance is the goal when it comes to big V8 engines primarily for sport-oriented vehicles like the Mustang and Heavy Duty Trucks such as Ford's 2500 and 3500 series.
Twin Turbo "Godzilla" Engine
Ford insiders report that Ford is working on engineering an upgraded version of its twin-turbocharged V8 engine that it currently offers in its Super Duty truck lineup. The engine is a naturally aspirated, pushrod 7.3 L V8 engine that was introduced to the F-Series Super Duty lineup as a replacement for the 6.8 L Modular V10 engine and is rated at 430 hp and 475 lb-ft of torque. Ford is currently experimenting with a twin-turbo forced induction configuration for its new V8 "Godzilla" engine that will offer improved power, performance, and acceleration.
Designed for Super Duty Trucks
The development of the engine is still in its early stages and there is little verifiable information available on its exact specifications as changes are being made during its testing. What we do know is that the new V8 engine is being tested on Ford Super Duty Truck prototypes that have yet to be seen, which hints at Ford's intentions to upgrade its Super Duty Lineup by introducing possible redesigns in the future.
There are rumors that indicate these prototype trucks will have unique heat shields on each corner of the front end and a modified hood, but no spy photos have been seen yet. In the meantime, Ford's engineering division is pouring every effort into making the 7.3 L V8 engine to acquire "Godzilla" status that will dwarf other V8 engines on the market today. Although less powerful and more eco-friendly versions of the engine are also available, consumers have the option to go all out and opt for the monster 7.3 L. which is bigger than any V8 Dodge has.
Powering Next-Generation Trucks
The twin-turbo V8 will have 430hp with the possibility of having even more power depending on what Ford wants to do with the engine. We can expect more information to be released in the coming months on the engine's status and updated power figures. For more information and the latest news on Ford trucks, stay connected with us at Wayne Akers Ford. We are your vehicle hub for everything Ford! Visit us or give us a call for any questions you may have about leasing or financing your next truck. You can also fill out our contact form to learn about our amazing deals and discounts on our latest inventory.
Image Source: Ford