The 2021 Ford Bronco Receives an Engine Boost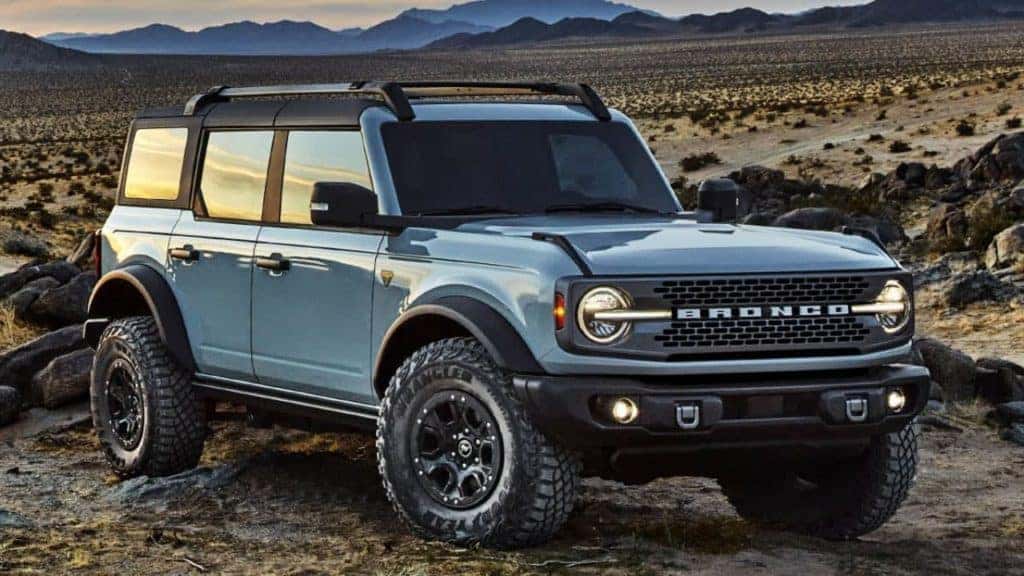 The 2021 Ford Bronco is the company's flagship off-road SUV that combines retro styling and modern design cues into a rugged and fun-to-drive platform. The Bronco offers buyers two engine choices: a 2.3 L Turbocharged I-4 that produces 275hp and 315 lb-ft of torque, and a 2.7 L Twin-Turbo V6 rated at 315hp and 410 lb-ft of torque. The V6 engine is perfect for off-road terrain and delivers fast acceleration to run over rocks and other rough obstacles. The smaller I-4 engine offers drivers more fuel economy at the expense of performance, but drivers will be able to make longer drives on road trips. When it comes to performance numbers, the Ford Bronco receives a boost in horsepower as a result of new specification data that was released by Bronco6G.com. The ratings have been published as official by Ford and states that the Bronco will make even more horsepower than originally anticipated. That power is managed by two transmission options: a 10-speed automatic and an optional 7-speed manual gearbox.
Increased Horsepower
The increase in power comes at the cost of fuel efficiency with the Bronco maxing out at just 21mpg of combined driving. However, the extra horsepower gives the off-roader more capability while driving on rough terrain. According to Ford's updated specifications sheet, the 2.3 L Turbocharged I-4 will receive an extra 30hp (an increase from 270hp to 300hp) and the 2.7 L Twin Turbo V6 an extra 20hp (an increase from 310hp to 330hp). This increase in the Bronco's horsepower numbers is only possible with the addition of premium fuel.
Using Premium Fuel
Achieving that extra level of horsepower requires the use of high-octane fuel that will enable the Bronco to hit those high power numbers. For drivers that want that extra boost when blazing down off-road trails or speeding across the backcountry, filling up with premium fuel will prove to be rewarding. This is because high-octane gasoline is able to be compressed and heated to a greater degree without self-igniting. This is the reason high-performance engines utilize premium fuel, whereas lower octane levels can translate into slower acceleration.
Off-Road Performance
Even the base 2021 Ford Bronco that retails for $28,500 (plus destination fee) is still a very capable off-road SUV for consumers with a budget. In addition, every trim level comes equipped with a durable AWD system that allows the Bronco to tackle obstacles with ease. Drivers will also appreciate the Bronco's heavy-duty skid plates that protect the underside of the vehicle from road debris. For more off-road capability, interested buyers can opt for the Sasquatch package, which adds 35-inch tires and upgraded shock absorbers. Just like the Jeep Wrangler, the 2021 Ford Bronco has a removable roof. This is a great feature for drivers who love driving with the top down for that open-air drive feel. Outdoor enthusiasts will find the Bronco to be a perfect SUV that delivers plenty of off-road fun for the whole family.
Buying a 2021 Ford Bronco
Ford built the Bronco to be rugged and tough for all types of challenging terrain. Not only is the 2021 Ford Bronco a great off-road SUV, but it is made to be a great family vehicle for those vacation days or recreational activities on the weekend. With the choice of seven trim levels, potential buyers can spec out their ideal Bronco to their style and needs. From a selection of two body styles, the two-door model offers simplicity and a more compact form factor, while the four-door model is best suitable for families with an active outdoor lifestyle.
Buy your new 2021 Ford Bronco at Wayne Akers Ford, our dealership staff can assist you in finding the perfect Bronco SUV that best fits your lifestyle. We have a wide selection of SUVs for family-oriented customers, we also have a diverse selection of Mustangs and capable trucks for commercial or personal use. Visit our dealership or fill out our contact form to learn about our unbeatable deals and discounts! Call us today!
Image Source: Ford