2021 Ford Bronco Climbs Hell's Gate in Moab, Utah in Reverse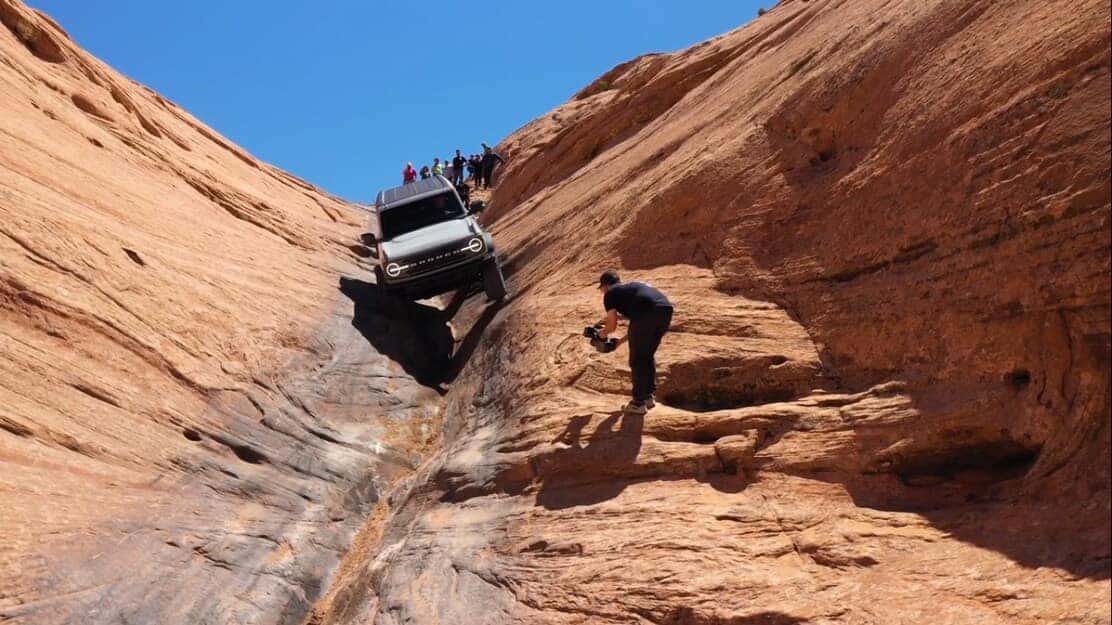 Ford Bronco fans have embarked on a mission to test the Bronco's off-road capabilities in the backcountry of Moab, Utah. But this was not a typical test of going over rocks or gravel, instead, a Ford team went to the extreme and decided to climb up the infamous Hell's Gate with a 2021 Ford Bronco, and they did it in reverse. Other off-road vehicles have attempted to climb before but not in reverse, this is a very impressive feat on behalf of the Ford Bronco nameplate which further showcases the off-road ability of this Jeep competitor. This is just another good reason to buy a new Ford Bronco and it won't disappoint.
Going in Reverse
Ford believes in breaking norms, being innovative, and looking to challenge the competition with record-breaking feats that capture the attention of prospective buyers. This accomplishment showcases how capable the Bronco's 35-inch all-terrain tires are and how impressive its 4×4 traction is. Hell's Gate is a very steep passage and climbing it carries with it a high chance of causing a major catastrophe with the potential for the vehicle to flip over and cause injury to someone, but for off-road junkies, that is the least of their worries. They want to see what the 2021 Ford Bronco can do and it surpassed expectations.
Extreme Off-Roading
Tackling an off-road obstacle in reverse carries with it a factor of danger although the Ford Bronco was up for the challenge without any hesitation. Driving in reverse may be a good gear for crawling, but often it complicates things and changes every aspect of vehicle handling, especially in a long climb of Hell's Gate. It changes the weight distribution of the vehicle by putting the engine in the rear, and it also changes the steering dynamic by putting the steer wheels in the rear. In addition, rear-view visibility becomes distorted and makes it more difficult to see the crevices of the rocks under the vehicle.
Buying A Ford Bronco
The 2021 Ford Bronco is built to handle rigorous off-road conditions with its rugged and durable chassis and body frame. Not only is the Bronco an excellent off-road performer, but it also makes for a good family vehicle for everyday use. Its exterior design brings back retro styling with a modern flair that gives the Bronco a tasteful and confident look ready to take on nature's most challenging terrain.
Buy your 2021 Ford Bronco with us at Wayne Akers Ford to experience world-class off-road performance and capability. Start your reservation today and we can help you finalize your order in the future in preparation for delivery. You can also visit our dealership or fill out our contact form to learn about our unbeatable deals and discounts! Give us a call today!
Image Source: Ford